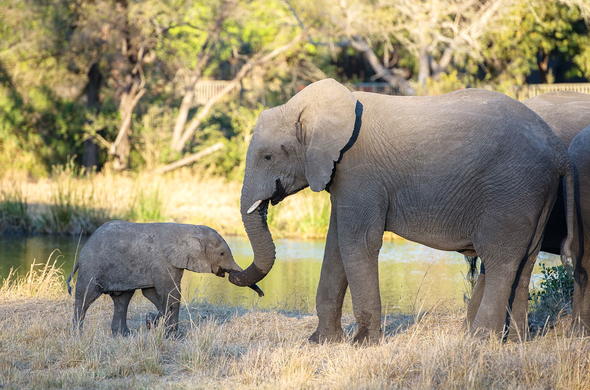 Conservation in the Sabi Sabi Game Reserve is a multi-faceted business requiring constant dedication and care not just for the environment but for everyone involved. A successful environmental management policy is in place to preserve Sabi Sabi for future generations.
The top priority is to maintain this pristine reserve where flora and fauna can thrive in optimal conditions. Sabi Sabi is a natural haven for wildlife and connected to the Kruger National Park, big game is free to move about at will over this entire region which is a major draw-card for the best Big Five game viewing opportunities.
The Sabi Wilderness
Sabi Sabi is located in the Sabi Sand Game Reserve which forms part of the Greater Kruger National Park. There are no fences to restrict wildlife such as Elephant, Lion, Buffalo, Rhino and Leopard, Cheetah, Hyena and Wild Dog from roaming freely in their natural habitat. Birdlife is prolific with at least 350 species present in the reserve.At Sabi Sabi, visitors from the northern hemisphere can see more birds in one glorious summer day than they would probably see in their entire life at home. On
game drives
,
exciting off-road routes
are followed deep into the reserve so that guests can get really close to the game and watch the interaction between predator and prey.
Eco-Tourism at Sabi Sabi
In order to harness the outstanding qualities of Sabi Sabi, every aspect of the business has to be managed in a holistic manner. All parts of the whole need to function at their best since they are inter-dependent. Overall success depends on a careful balance between the environment and people.
Conservation
Conservation includes the constant application of environmental controls such as the removal of alien plant species which threaten indigenous plant life, fire management, road maintenance, waste-water disposal and the creation of an effective water cycle. A strict 'non-interference' policy is in place when it comes to animals in the wild which are injured or hurt in some way. Occasionally it is deemed necessary to take action when the injury is as a result of human intervention or if the animal concerned is a member of an endangered species.Sustainable tourism at Sabi Sabi includes the provision of an exceptional safari experience for all guests and the earning of foreign currency. Consistent high standards throughout ensure popularity across the board.
Community
Community is defined as all the employees of Sabi Sabi and the local community. There are around 200 staff members and of this number 170 people reside in the rural communities that surround the reserve. The success of Sabi Sabi impacts on the ability of these staff members to support their families and dependents.
All staff members are therefore empowered through extensive training and development to improve their skills and performance in the day to day running of the business. Sabi Sabi also supports a number of innovative projects to up-lift the local community.