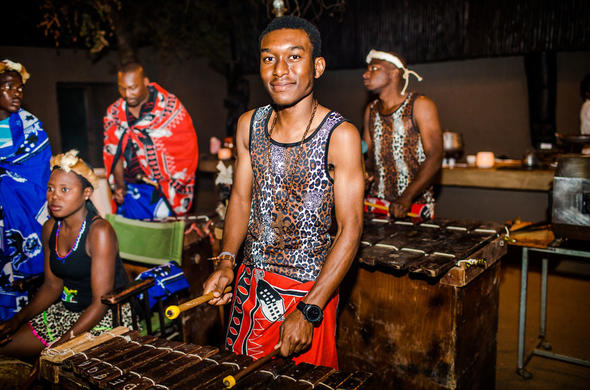 On a Sabi Sabi safari you can soak up the rich heritage of the Shangaan people and find out more about their traditional African culture or consult with a sangoma on the popular community tour.
Sabi Sabi and the Shangaan
There are 200 staff members at Sabi Sabi Game Reserve and more than half are from the
Shangaan villages
located on the outskirts of the reserve. As a guest you will notice the Shangaan influence, you'll hear stories and local legends and experience this rich heritage in a number of ways.The Shangaan people have lived in the Sabi area for hundreds of years and their
incredible knowledge of the local bushveld
is renowned. The skills of trackers and rangers at Sabi Sabi, who are drawn from the local communities, are fully engaged on a safari.
Traditional dance, singing and drumming
The Shangaan have a reputation for their exceptional dance skills. The dance style is similar to that of the Zulu people but with a quicker pace and more variation. In the gold mines of South Africa the Shangaan workers made gumboot dancing famous, a style of dance which has evolved into its own art form in recent years.Sabi Sabi hosts regular displays by traditional dancing, singing and drumming groups from the local community, showcasing the amazing talents of these fine performers. At
night under the stars
in the Sabi Sabi boma, guests sit around the central fire and enjoy superb food and wine in preparation for a show.While the fire crackles and lanterns flicker, a wonderful atmosphere is created in which to fully appreciate the Shangaan choir singing beautiful African songs, or the
rhythmic beating of the drums
. The dancer's spectacular movements and traditional dress provide a visual display that is unforgettable.
Themed dinners and Events
Whether it is for a company getaway or a bush wedding, Sabi Sabi can set the scene for a dramatic African themed event heralded by the stirring sounds of traditional drum beats. Colourful fabrics and stunning hand-carved items are artfully combined in atmospheric surroundings, created by the lively sounds of the
Shangaan community marimba band
or the melodic voices of the choir.
Visit the Sangoma
Sabi Sabi offers authentic community tours into the surrounding Shangaan villages. You will be able to interact with residents and elders and
visit a number of community projects
which are supported by Sabi Sabi. You'll gain insight into the customs and traditions of this living culture and your contribution directly benefits the community.A highlight of the tour is a
visit to the mystical village healer
. The sangoma is an authority on traditional medicine and widely consulted on a range of subjects including spiritual matters and divination. The sangoma is a highly respected member of the village and regularly dispenses advice and blessings.