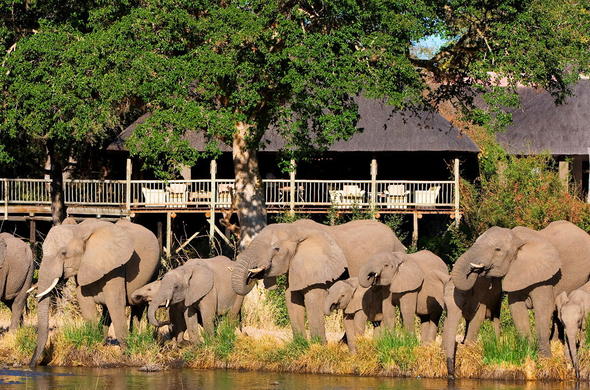 Sabi Sabi Bush Lodge is set in the heart of the Sabi Sabi bushveld overlooking a waterhole and an African plain.
Sabi Sabi Bush Lodge Safari Experience
Situated in an unsurpassed game path with borders to Kruger National Park
Air-conditioned thatched suites exquisitely furnished in ethnic decor
Conference centre accommodating up to 90 delegates
A hub of warmth and luxury deep in Africa's heart
Sabi Sabi Bush Lodge offers you an informal atmosphere of hospitality and warmth. Uncomprising high standards of efficiency, personalised attention and service make your safari an unforgettable African experience.
In this luxury lodge, a variety of activities will keep you occupied. Exciting tales from the bush told by your local safari guides are shared over a boma dinner under the most incredible African night sky. Here, the sightings of the day can be discussed and new friends can be made. Those who have come to work and play can be accommodated in the comfort of Sabi Sabi Bush Lodge's conference centre including Overhead projector,whiteboard and flip-charts.
The EleFun Centre was created by childcare professionals to offer children between the ages of 4 and 12 years of age a fun, safe and educational experience at Sabi Sabi Bush Lodge.
Child Policy
Children of all ages are welcome. Children under the age of 6 years are not allowed on game drives. Children between the age of 3 and 6 years may only accompany their parents/ guardians on game drives if there is exclusive use of a safari vehicle. The usage of an exclusive vehicle is subject to availability.
Children 5 years and younger will not be allowed in the boma for dinner. Dinner will be arranged in the lounge, breakfast and lunch are served as per normal with parents/ guardians. We reserve the right of allowing or disallowing children on game drives for any possible reason and this is at the discretion of the General Manager/ Ranger of the vehicle.